MAXPWR Front View 6x4.75x2.25 inches Price $450.00 each
---
MAXPWR Features
Low Battery drain due to switch mode technology, High Efficiency circuit design for less heat output, Good load and line regulation, Over temp protection, Input reverse polarity protection, Short circuit protection.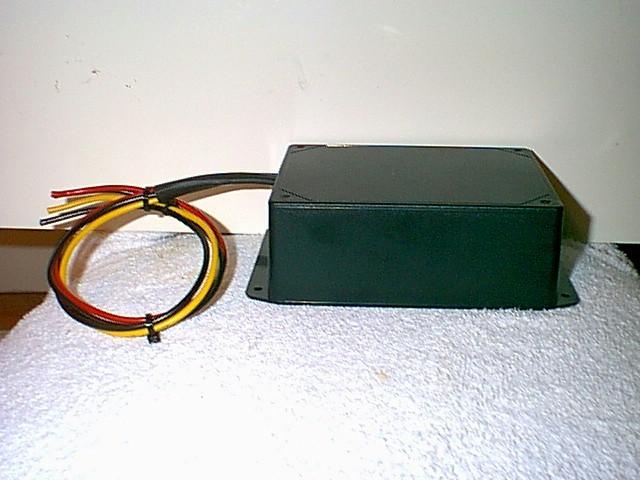 MAXPWR Side View
What TechWest Racing Services has found is a way the racing community can hold their battery power supply to the racing ignition rock solid with or without a charging system on board.
You are asking yourself what does this mean for my racing program? Consistent ignition performance at all times, Access to ALL the performance built into the racing ignition system by the manufacturer. More engine tuning options available, Racing Ignition box runs cooler. The ability to run a 16/18 volt type system without the hassles or costs associated with switching ALL electronic equipment to a new voltage rating.
TechWest Racing Services developed MAXPWR during the 2008 racing season while working with our customers and their race teams. What you have is a No Holds Barred system for racers moving to a 20 volt system for their racing ignition systems. All switching electronics on the ignition circuit boards reacted quicker to the trigger input signal. The output section of the ignition system supplied a stronger and more consistent punch to the ignition coil. With MAXPWR supplying 20 volts, 15 amps of current you have more than enough power to handle all your needs. So if you're serious about your racing program, you should be on the hunt for performance improvements to your racing program to keep it ahead of the competition. MAXPWR delivers just that, Your ignition system set on Full Kill Period!